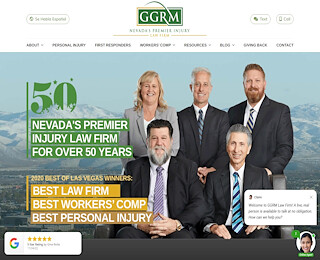 Experiencing an accident that is not your fault can cause people to experience trauma long after the accident is over. Some people experience nightmares about the accident, while other people experience Post Traumatic Stress Disorder due to a serious accident. From car accidents to personal injury accidents, a civil litigation attorney in Las Vegas can help represent your legal rights. Many people confuse a litigation lawyer with trial lawyers, which is easy to do if you are not familiar with the various types of lawyers. A litigation lawyer takes care of all of the paperwork and research that takes place outside of the courtroom. A trial lawyer takes care of everything that goes in inside of the courtroom. Regardless of what type of lawyer you need, it is best to practice smart shopping when deciding which lawyer to hire. The outcome of your case can depend on the quality of lawyer that you hire.
Quality Civil Litigation Attorney in Las Vegas
If you are looking for a civil litigation attorney in Las Vegas that will fight hard for your legal rights, you should turn to our professional team at Greenman, Goldberg, Raby, and Martinez. At our law office, you will find a highly qualified legal team that is ready and willing to do whatever it takes to help you win your civil case. Most of the civil cases that our firm deals with include personal injury cases and worker's compensation cases. Our firm has had the honor of receiving multiple awards based on our quality services. There are a lot of lawyers that specialize in civil litigation in the Las Vegas area, but none of them can compare with the top of the line legal services that we provide at the Law Firm of Greenman, Goldberg, Raby, and Martinez.
Twenty Four Hour Live Chat Available on Our Website
At our website, you will find twenty four hour live chat support that can help answer basic questions that you have about the legal services that we can provide to you. Our staff is able to accommodate clients who only speak Spanish. Our law firm has been highly reviewed by real clients that have used our services in the past. We are more than happy to provide client testimonials to provide you with insight as to how our firm really functions. We proudly offer free case evaluations where we will discuss the details and possible outcomes of your case. If we feel we cannot win your case, we will not waste your valuable time by making promises that we cannot keep. Our staff will be upfront and honest about our ability to win your case.
Reasonable Rates for Top Rated Legal Services
At our legal firm, we take a great amount of pride in the reasonable rates that we offer for our highly rated legal services. The Law Firm of Greenman, Goldberg, Raby, and Martinez is the longest standing personal injury law firm in the Las Vegas area. Since 1970, our firm has been faithfully serving Las Vegas and the surrounding areas.
Civil Litigation Attorney Las Vegas