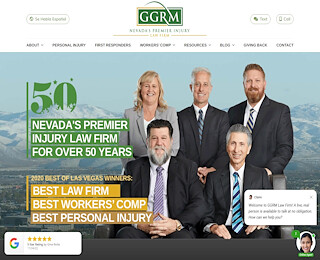 It is Nevada State law that employer's provide worker's compensation insurance to employees that become injured or disabled while on the job. Thousands of people across the nation experience a work related accident that was not their fault every single year. Sometimes, accidents at work happen, but that does not mean that you should have to pay because you were hurt. It is the job of your employer to provide you with financial compensation if you are hurt while on the job. It does not matter if you experience a minor injury or a serious injury. You are entitled to worker's compensation if you receive any kind of injury while you are working. Being hurt on the job can prevent you from continuing your job duties. Worker's compensation insurance is what protects you as an employee should you become injured while working.
Finding an Employment Attorney in Las Vegas
While you may be legally entitled to worker's compensation, some employers do their best to avoid awarding it to their employees, even if they deserve it. If you were hurt at work, and it was not your fault, you should be sure to contact a legal firm that will fight for your legal rights to financial compensation. If you are hurt at work, you should not be stuck paying your own medical bills. Plus, you will lose money for the time that you are not present at work. Worker's compensation insurance was designed to protect workers who become hurt while doing their jobs. A quality employment attorney in Las Vegas will guide you through the legal process of fighting for your worker's compensation.
Steps to Follow if You are Hurt at Work
If you experience an injury on the job, there are a few steps that you can take to protect your legal rights before you ever consider hiring a lawyer. The first step you should take if you are hurt while on the job is to report the injury to your employer. It does not matter if you only experience a minor injury; it should be reported to your employer as soon as it happens. Do not delay in reporting injuries to your employer. You should write down a brief description of how your injury occurred that includes a description of the injury that you received. You should also compile a list of witnesses that were present during your injury. It is not a bad idea to ask the witnesses to write down a quick statement of what they saw.
What to do if Your Claim is Denied
If your worker's compensation claim is denied and your injury was not your fault, you have legal rights that should not be trampled on. Our team at Greenman, Goldberg, Raby, and Martinez will fight for your legal rights until the very end. We will do our best to ensure that the best possible outcome for your case is achieved. During the free consultation that we offer, our team will discuss the details of your case and determine whether or not we can help.
Employment Attorney Las Vegas
GGRM Law Firm
+1 702-388-4476
2770 S. Maryland Pkwy., Ste. 100, Las Vegas, NV 89109
View Larger Map