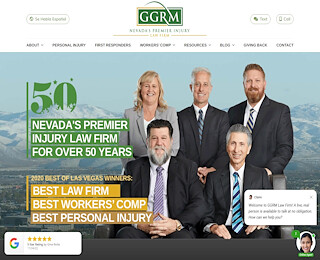 There are a number of different reasons why you should seek legal advice if you have been the victim of an accident. One of the main reasons accident victims should seek legal advice is to ensure that their legal rights are not trampled during the litigation process. People who experience accidents that are not their fault are victims who deserve to be reimbursed for their medical expenses, their physical pain, and their mental anguish. Most people avoid seeking legal counsel because they feel that legal services are too expensive or they do not believe that their case is one that is worth fighting for. At Greenman, Goldberg, Raby, and Martinez, we do not charge you a single penny unless we help you win your case. When it comes to rates, our prices are some of the most reasonable in the Southern Nevada area.
Reliable Injury Attorney in Las Vegas
There are a lot of personal injury attorneys that serve Las Vegas and the surrounding areas, but none of them can even begin to compete with the level of expertise that we have at the Law Firm of Greenman, Goldberg, Raby, and Martinez. Between our team of lawyers, we have a collective experience that maxes out at forty five years. We have helped thousands of accident victims get the financial compensation that they deserve. The focus of our team is to uphold your rights, protect your wellbeing, and help you look forward to your future. If you have experienced an accident in the state of Nevada that was not your fault, you should not hesitate to contact our staff.
Benefits of Hiring a Local Injury Lawyer to Represent You
There are a lot of benefits associated with hiring a local injury attorney when seeking financial compensation for your injuries. The most obvious benefit that a hiring a local lawyer can provide is that they will be well versed in Nevada State law, which means that you will have a fighting chance of winning your case. A local lawyer will also be available to communicate with you at times that are convenient for you. An out of state injury lawyer might not be able to provide you with the same personal experience that a local lawyer can. At the Law Firm of Greenman, Goldberg, Raby, and Martinez, we strive to provide professional legal services with a personal touch. Our team is dedicated to helping you collect financial compensation for being the victim of an accident. Another benefit of hiring a local personal injury lawyer is that they will not have to cancel court dates due to travel issues. A local lawyer, like our firm, will be available for your court dates without having to trouble you with the stress of rescheduling the court appearance.
Take Advantage of the Free Consultation Offered to You
Take advantage of the free consultation that we offer to you by reaching out to our staff via phone or on our website. We look forward to serving your legal needs; no matter what they may be.
Injury Attorney Las Vegas
GGRM Law Firm
+1 702-388-4476
2770 S. Maryland Pkwy., Ste. 100, Las Vegas, NV 89109
View Larger Map