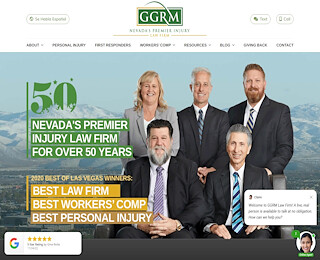 Being the victim of an accident can leave you in quite a financial predicament because you will be forced to pay your own medical bills, even though the accident was not your fault. It doesn't seem fair, does it? Believe it or not, if you are the victim of an accident that was not your fault, you have legal rights. Most people do not believe that their case will win, so they do not bother to speak to a personal injury law firm. If you are an innocent accident victim, you have nothing to lose by speaking with a legal professional. Seeking legal counsel can help you get awarded the financial compensation that you deserve. You should not be forced into financial debt because you were in an accident that was not your fault. The responsible party should take financial responsibility for your medical bills as well as your pain and suffering.
Finding an Injury Lawyer in Las Vegas
There are many injury lawyers practicing in Law Vegas, but none of them can even begin to compare to the experience that our team has at the Law Firm of Greenman, Goldberg, Raby, and Martinez. All combined, our legal team has over forty five years of experience and expertise that we are willing to put to work for you. Our staff is not only happy to answer any questions that you may have about our services, but we will also help you book a free consultation. During your free consultation, you can expect our team to learn in depth details regarding your case. We will not pressure you into hiring us, but we will make it clear whether or not we believe that we can win your case. We will not beat around the bush or waste your valuable time.
How an Injury Lawyer in Las Vegas can Help Your Case
Facing a judge in a courtroom is like going fishing without a fishing pole. You can't expect the best possible results if you are not prepared. Having a lawyer on your side can provide you with insight regarding the law that you otherwise would have been oblivious to. Don't let anyone stomp on your legal rights. An injury lawyer can help guide you through the legal process and do whatever it takes to help win your case. The right lawyer will go above and beyond the call of duty to ensure that the court rules in your favor. At our law firm, we have won multiple awards for our excellent service and dedication to customer satisfaction.
Professional Experts Working for You
At the Law Firm of Greenman, Goldberg, Raby, and Martinez, we believe in putting our clients and their needs first. Not only can you expect us to fight hard for your legal rights, but you can also expect our staff to treat you with the utmost care and respect. It is our goal to provide top quality services at the most reasonable rates, which is why you will find our rates to be some of the most affordable in the Southern Nevada area.
Injury Lawyer Las Vegas