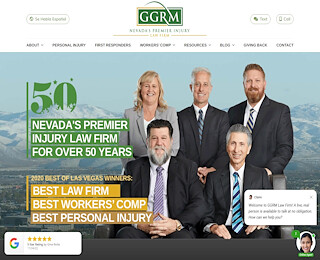 Being injured in a car accident that was not your fault can still end up leaving you in a large amount of debt from the medical bills that you incur. You should not be held financially responsible for medical bills that racked up due to an accident that was not your fault. It simply does not make sense for someone to pay for a mistake that was not theirs. You do have legal rights that you should explore by hiring a professional personal injury attorney that has experience in dealing with car accidents.
When you are injured in a car accident through no fault of your own, you become a victim. Just because you become a victim does not mean that you should let your legal rights be trampled. Seeking legal counsel after a car accident is the best thing that you can do to help get yourself out of debt caused by medical bills.
Hiring a Quality Las Vegas Accident Attorney
Medical bills are not the only debt that can be racked up if you become the victim of a car accident. If you are badly hurt, you could end up missing out on work. You might even face losing your job completely, which can be devastating. Not only can you be financially compensated for your medical bills after an accident, but you can also be reimbursed for loss of wages that you experience. It is also possible for you to be compensated financially for your pain and suffering. While no amount of money can make up for the pain that you experienced during and after the accident, the financial award can help benefit your life for the better. You should not trust your personal injury case in the hands of any Las Vegas accident attorney. Rely only on our professional team at Greenman, Goldberg, Raby, and Martinez Law Firm.
Why Our Team is the Best
Our team at Greenman, Goldberg, Raby, and Martinez is made up of legal professionals who specialize in personal injury law. Our experience and expertise make us stand out in the crowd of attorneys that serve Las Vegas and the surrounding areas. When you count on our firm, you can expect to be treated with the utmost care and respect. Our clients are important to us, which is why we do not rest until you are satisfied with our services. Our team will battle against the court system to ensure that justice is served in your favor. It is our personal goal to provide you with one hundred percent customer satisfaction.
Free Consultation for Legal Services
Reach out to our staff today to schedule a free consultation for our legal services. We can guide you through the legal process and let you know whether we feel that we can win your case. If we do not think we can win your case, we will not waste your time by making you promises that we cannot keep. Our team looks forward to serving your legal needs.
Las Vegas Accident Attorney