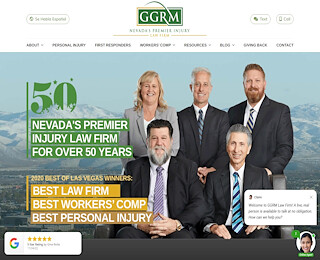 It is estimated that thousands of workers in America experience an accident or injury while they are at work. These injuries can even go as far as to prevent the employee from properly continuing their job duties. In the state of Nevada, it is the law for employers to provide their workers that are injured with compensation for their medical bills and expenses. Most employers are more than happy to approve worker's compensation claims because they want to do what is right and do what is best for their employees. However, there are the few employers who do not want to approve worker's compensation claims, even if the worker was injured on the job. Some workers have to fight for the legal compensation that they are entitled to.
Hiring a Las Vegas Attorney for Worker's Compensation Claims
While there are a lot of options when it comes to Las Vegas attorneys that represent worker's compensation claims, none of them can compete with the experience and high level of professionalism that you will find at the Law Firm of Greenman, Goldberg, Raby, and Martinez. We are a multiple award winning law firm that the city of Las Vegas has recognized as a top business. At our company, we believe in putting the needs of our clients above all us, but we are not afraid to be upfront and honest regarding whether or not we can win your case. Before you decide whether or not our firm is the right one for you, take advantage of the free consultation that we offer. During the consultation, feel free to ask our staff any questions you have about our services, fees, and capabilities.
Quality Services Dedicated to You
If you have been injured at work through no fault of your own, you should first be sure to notify your employer that you have been injured. It does not matter if you incur a major or minor injury at work. All injuries should be reported to your employer as soon as they happen. You should also create personalized documentation that provides the date, time, and other important information about the injury. You should also write down a short, but thorough explanation of how the injury happened. It is important that you be as honest as possible when creating your explanation. It is also vital to include a list of any witnesses that were present when your injury took place. By following these steps, you will make it easier for our legal team to prove that your work injury was not your fault and that you deserve financial compensation.
Appealing Worker's Compensation Claims
If you have already filed a worker's compensation claim that has been denied, our legal team can help you through the process of filing an appeal. Just because you were denied the first time does not mean that you should give up on seeking the financial compensation you deserve for being hurt at work. Let our team put our expertise to work for you by fighting for your legal rights.
GGRM Law Firm
+1 702-388-4476
2770 S. Maryland Pkwy., Ste. 100, Las Vegas, NV 89109
View Larger Map