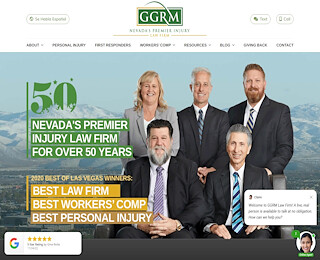 When you are hurt in an accident that is not your fault, you can still face medical bills that can leave you drowning in debt. If you are hurt at work and are denied worker's compensation, you can still file an appeal that might end up turning your case around. When you get hurt through no fault of your own, you have legal rights. You do not have to be at work to be the victim of an accident. However, workers do have legal rights as well, and they deserve legal representation. Most people who have been the victim of an accident tend to avoid seeking legal representation because they do not think they have a case worth fighting for. Don't count yourself down and out before you have had a free consultation from our team at Greeman, Golberg, Raby, and Martinez.
Top Law Firms in Las Vegas, Nevada
When it comes to law firms in Las Vegas, Nevada, there are a lot of options available to you, but no one else except our team at Greenman, Golberg, Raby, and Martinez will go above and beyond the call of duty to fight for your legal rights. We offer a free consultation to potential clients, where we will discuss the details of your case. Our attorneys will be respectful and upfront about whether or not we feel that we can win your case. If we cannot win your case, we will not waste your time. Our staff will gladly answer any questions that you may have about our services. With a collective experience of forty five years, our personal injury and worker's comp attorneys are dedicated to helping people who have faced injuries through no fault of their own.
Seek Legal Counsel that Believes in Your Case
You should not hire an attorney that does not believe that your case can be won. Some attorneys will take a case just to rack up retainer fees and other costs, but that is not the case with our law firm. We do not get paid a cent if you do not win your case, and we do not accept cases that we cannot win because we do not want to waste your precious time. Anyone that has been injured in an accident is strongly encouraged to seek legal counsel that will fight tooth and nail for their legal rights. Our law firm has the experience and expertise that is required to take on even the most complex cases.
Reach Out Today for More Detailed Information
You should not delay in reaching out to our law firm for more detailed information about how we can cater directly to your individual needs. Overcoming the financial difficulties of being an accident victim can feel as possible as finding the world's smallest needle in the world's biggest haystack. You do not have to fight alone for the financial compensation that you deserve. Reach out to our team today to schedule an appointment to discuss the details of your case.
Law Firms In Las Vegas Nevada
GGRM Law Firm
+1 702-388-4476
2770 S. Maryland Pkwy., Ste. 100, Las Vegas, NV 89109
View Larger Map