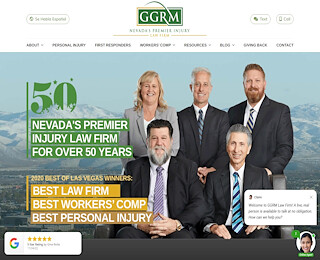 Looking for lawyers in Las Vegas? Look no further than GGRM. We are a firm of personal injury and workers compensation attorneys. We want to work on your behalf to get you what you are entitled to receive. We are your personal injury and workers compensation lawyers.
How do I choose an excellent personal injury lawyer?
Looking for lawyers in Las Vegas is time-consuming. Some questions to get answered before you make your final decision on hiring a lawyer are listed below. If you have an attorney for other matters, ask him/her for a referral. Spending a little extra time checking references and looking up their ratings can save you a lot of problems later.
You need to find an attorney in your area that is licensed.
Do they charge for the initial consultation?
How did the staff treat you?
Was the office clean and professional looking?
Did the attorney meet with you professionally and give you enough time, and did your questions get answered?
What are their fees?
Will they tell you about each offer?
The lawyer you choose should exclusively do personal injury cases.
Is your lawyer known for taking his/her cases to trial when it becomes necessary?
You want to pick a lawyer with high verdicts and substantial settlements.
Find a lawyer that has written and lectured in the personal injury/workers compensation field.
Choose an attorney with enough assets to take your case seriously.
Who will be working on your case?
Personal injury law is complicated and has lots of rules and regulations. By choosing a lawyer that does a little bit of everything you risk being underrepresented. Yes, your attorney may have handled your divorce or made out your will, but he/she may not be the right legal representation for your personal injury case.
Many attorneys advertise and plaster their pictures on billboards. If they are not willing to go to court, an aggressive insurance company will make ridiculous settlement offers. An inexperienced attorney might not be able to stand up to the pressure and settle for way less than you deserve.
It is essential to know how many large settlements your attorney has won. Your case might be significant on with serious injuries. You need a lawyer that will do what it takes to get you the best possible outcome.
I have an attorney, now what?
There are Rules of Ethics that attorneys are bound by and give them basic rules of conduct. Lawyers in Las Vegas will follow these rules. You will have a contract, and with personal injury cases, it will typically be on a contingency fee basis. You should receive regular updates about your case. Being kept informed doesn't mean a daily or weekly call, just when something new is going taking place on your case.  Your lawyer needs to stay informed about your case; this includes medical issues. Your attorney should log every call and make notes on what you discussed. Accurate records are critical. You should be comfortable and trust your choice of an attorney.
Give GGRM a call in Las Vegas. Their staff is ready and willing to help you.
Lawyers In Las Vegas