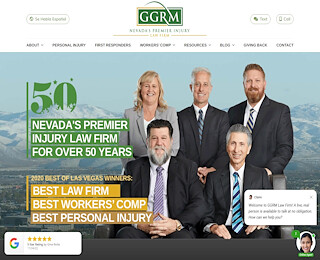 You would not go camping without a tent. You would not go fishing without a fishing pole. You would not go surfing without a surf board. There are situations in life that you need to walk into fully prepared for what you will encounter. When you are walking into a courtroom, regardless of the reason, you need to have a lawyer by your side who will fight for your legal rights. Having a lawyer when you go to court is just as essential as having a tent when you go camping. A lawyer is a required component in order to achieve success, much like a tent is a key component to a successful camping trip. Hiring a lawyer when you have been the victim of an accident that was not your fault could be the best decision that you ever make.
Benefits of Hiring a Personal Injury Attorney in Las Vegas
There are a number of different benefits that are associated with hiring a personal injury attorney in Las Vegas. A local attorney will be familiar with Nevada laws and can guide you as to what is the best course of action for you to take when it comes to your legal rights. You should not face a judge without a lawyer representing you. If you want a fair chance at receiving the financial compensation that you deserve for being a victim of an accident, you should contact our team at the Law Firm of Greenman, Goldberg, Raby, and Martinez. Our staff is not only happy to answer any questions that you may have about our firm, but will also help you set up a free consultation to discuss the details of your case. Our law firm has a collective experience that adds up to more than forty five years.
Award Winning Law Firm Dedicated to You
At the Law Firm of Greenman, Goldberg, Raby, and Martinez, we have been the honored recipients of the Best Law Firm and Best Personal Injury Lawyers in Las Vegas for two years in a row. On our website, we offer twenty four hour live chat so that you can ask any questions that you have about our firm and our capabilities. Clients can also reach out to us via phone where we are capable of accommodating clients whose first language is Spanish. If you need prompt legal advice that is geared towards your best interest, you need to contact our team so that we can begin to fight for you in the courtroom. Our team of lawyers does not accept cases that they do not feel confident that they can win. Plus, we do not collect a dime for our services unless you win your case.
Someone Fighting in Your Corner
If you want someone fighting in your legal corner, you should not delay in contacting our staff at Greenman, Goldberg, Raby, and Martinez. We are Southern Nevada's most reputable and reliable personal injury attorneys, and we will not rest until your case is a winner.
Personal Injury Attorney Las Vegas