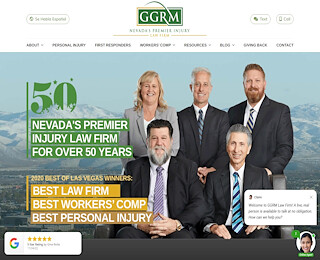 Being the victim of an accident that is not your fault can be frustrating for a number of different reasons. For starters, you have to pay for medical bills out of your own pocket, even though you did not cause the accident. Sometimes, accidents happen that cannot be avoided, but that does not mean that the victim of the accident should have to pay. Medical bills can rack up quick to large amounts that can be difficult for any household to afford. If you are unable to pay these medical bills on time, you can expect your credit score to suffer. To experience these consequences, when you did nothing wrong can be infuriating, but you should be made aware of the fact that you do have legal rights. Anyone who has experienced an accident that was not their fault is encouraged to seek legal counsel.
Finding a Personal Injury Lawyer in Las Vegas
Medical bills are not the only thing that accident victims have to worry about. Injuries that were sustained during the accident can cause you to miss time at work, which again, ultimately costs you money. If you miss too much work due to your injuries, your boss might become less understanding over time. In the end, you could end up getting fired and losing your job over an accident that was not your fault. You should not have to suffer financially because of an accident that was completely beyond your control. The person that caused the accident should be held responsible for themselves and for the finances that their actions have racked up.
Legal Professional Working Hard for You
Having a legal professional working hard for you can greatly determine the outcome of your legal case. You should not hesitate to hire a lawyer to stand up for your legal rights. However, you should not put your trust in the first personal injury lawyer that you come across. You should only put your trust in our staff at Greenman, Goldberg, Raby, and Martinez Law Firm. We specialize in personal injury and worker's compensation law, and our team will do whatever it takes to win your case. A free case evaluation is offered where our team will review your case and determine what contributions we can bring forward. We will be honest and upfront regarding whether or not we can win your case. If we can't, we will not waste your valuable time.
Schedule a Free Consultation to Review Your Case
During the free consultation that our team offers, you will not feel any pressure from our staff. We want to make you feel as comfortable as possible so that there is an open line of communication between our clients and us. We believe that creating an open line of communication can help improve your odds of winning your case. We are ready and willing to answer any questions that you might have about what our team can do for you. Let us stand up for your legal rights in the courtroom by contacting us today.
Personal Injury Lawyer Las Vegas